Sorry I haven't sent out a newsletter lately but I've had a lot going on--as you'll soon be able to tell! 2014 is a busy year. My Pet Rescue Mystery novel TEACUP TURBULENCE was published in January, plus I self-published a novella in the series, CHIHAUHA CHAOS I also self-published one of my backlist books, THE GLASS SLIPPER.
Then there are my two new Alpha Force romances for Harlequin Nocturne. And finally, in October, the first of my new Superstition Mysteries will be published!
Pet Rescue Mysteries - Now Available
Los Angeles animal shelter manager Lauren Vancouver has a soft spot for animals in need—and a keen eye for crime. . .

Thanks to a savvy ad campaign featuring teacup pups sporting HotPets Bling—a new line of faux jewelry dog collars—small dog adoptions have skyrocketed across the city. So when Lauren discovers a shelter in the Midwest with more toy dogs than it can handle, she arranges a private plane to swoop in and fly the pups back to LA.

But Lauren didn't count on rescue worker Teresa Kantrim coming along for the ride. Teresa has cared for the dogs since they were found and doesn't trust anyone from La-La Land to take over the job. Her biting comments clearly haven't earned Teresa any new friends, but when she turns up murdered, it's time for Lauren to dig into Teresa's past and find out who wanted her put down.
CHIHUAHUA CHAOS, a novella available on Amazon Kindle:
Chief administrator Lauren Vancouver knew something was wrong the moment Brittany Brandewyn showed up crying at HotRescues ready to relinquish her beloved Chihuahua Kirbee forever. Lauren can't figure out why--until she learns that Brittany's neighbor, whose track record includes dog abuse, has been found murdered, and all paws point to Brittany as the culprit. About to be arrested, Brittany has no one else to care for her beloved dog. Can Lauren find the real killer before Chihuahua chaos conquers all and Brittany and Kirbee are separated forever?
Republished book - A Faerie Tale Romance
"By the stroke of midnight you must kiss
the handsome prince who will bring you bliss."
Can fairy tales come true? Paige Conner doesn't think so--except that she happens to have a fairy godmother, Millicent. When Paige lands a new job as historian in the in the wonderful monarchy of Dargentia, she suspects Millicent's involvement. And once Paige meets the handsome hunk of a ruler, Prince Niko, she can only hope her fairy tale has a happy ending.
Visit Me
Please come visit me at www.LindaOJohnston.com and at www.KillerHobbies.blogspot.com on Wednesdays and on Killer Characters on the 18th of each month and at InkSpot on the first Monday of each month...and friend me on Facebook!
Harlequin Nocturnes :
The paranormal romance UNTAMED WOLF was released in May and continues the stories of a covert military team of shapeshifters. Military sergeant Jason Connell's freedom is riding on a covert assignment. His sexy new superior, Lieutenant Sara McLinder, tests his desires, even if she doesn't believe in his extraordinary abilities. Once the threat against Alpha Force turns explosive, his instinct to protect the seductive Sara eclipses everything.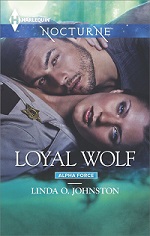 The latest of my Alpha Force series, LOYAL WOLF was just released on August 1. When fearless deputy sheriff Kathlene Baylor detects suspicious behavior on the outskirts of her Montana town, she's first to investigate. She calls in the military when her own department refuses to take the anarchist threat seriously. But she doesn't realize the task force assigned to her is no ordinary team—or that with it will come shapeshifter Jock Larabey, the sexiest man she's ever seen. As the danger escalates, so does their desire.
By the way, both Nocturnes are also available in 2-in-1 volumes, each containing another full-length paranormal romance by another author:
UNTAMED WOLF is paired with IMMORTAL COWBOY by Alexis Morgan
and
LOYAL WOLF is paired with IMMORTAL OBSESSION by Linda Thomas-Sundstrom.
And coming next...
The Superstition Mysteries !
LOST UNDER A LADDER is my first Superstition Mystery and my first mystery for Midnight Ink, and will be released in October. Protagonist Rory Chasen doesn't believe in superstitions—until her fiancÚ walks under a ladder and is killed by a car five minutes later. Rory takes her dog Pluckie to Destiny, a town where superstitions are a way of life.
When Pluckie saves the life of Martha, the owner of the Lucky Dog Boutique, Martha offers Rory a job at her pet store. But when Martha becomes the prime suspect in the murder of the local bookshop owner, Rory refuses to believe that she would do it. Rory must uncover the truth before Martha is hauled off to jail.
More to Come
Guess what: I'm working on a second mystery series for Midnight Ink. I'll release more details about it in the future. But you won't be surprised that it involves dogs!