Happy Holiday Season!
It's that time of the year. If you're like me, you're involved in celebrating several holidays, and enjoying family and friends and hopefully everything!
Here are some of the everythings that I'm particularly enjoying—yes, my writing: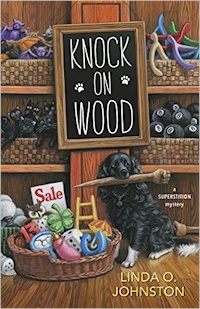 KNOCK ON WOOD
That's my second Superstition Mystery, which was an October 2015 release. I'm knocking on wood that people are having as much fun reading it as I did writing it. And the third Superstition Mystery, UNLUCKY CHARMS, will be an October 2016 release.
---
THE BALLAD OF JACK O'DAIR
It's one of my fun backlist time travel romances—and it will soon be available as an e-book for Kindle. In fact, it's available now for pre-order on Amazon, and it will be released on January 25, 2016.
The story is about Jessie Jerome, a modern-day folk singer who has heard the beginning of a ballad about heroic Jack O'Dair but is unable to find its ending... until the person who sang it to her in the first place somehow sends her back to the time Jack lived, during the Alaskan gold rush. He's every bit as handsome and courageous as Jessie imagined, and he has a delightful wolf-dog, Taku, just as the ballad said. But even being there, will Jessie ever learn the actual end of the ballad—which now stops when Jack is caught in an avalanche? And will the sexy, brave guy survive?
You can find out by reading THE BALLAD OF JACK O'DAIR. Be sure to pre-order it now!

---
OTHER STUFF
Did you receive my other, recent newsletters? If so, you're aware of some of the other books of mine that were published in 2015. If not—well, feel free to visit my website to check them out—including another backlist reboot: ONCE A CAVALIER, a time travel romance featuring a wonderful heroine, a brave hero, and Cavalier King Charles Spaniels!
Then there's my Harlequin Nocturne CANADIAN WOLF, about Alpha Force, my covert military unit of shapeshifters.
Don't forget my first Barkery & Biscuits Mystery, BITE THE BISCUIT. Its first sequel, TO CATCH A TREAT, will be available in May 2016.


And, yes, more... I'll tell you about them in my upcoming newsletters.
And, hey, I'm not above suggesting that you check out my releases and even consider giving them as holiday gifts!

---
VISIT ME!
Please come visit me at www.LindaOJohnston.com and at www.KillerHobbies.blogspot.com on Wednesdays, on Killer Characters on the 18th of each month and at InkSpot on the first Monday of each month... and friend me on Facebook! And I do pop up often at chats, blogs and more on Writerspace.

Have a wonderful holiday season!
Linda