Knock On Wood That You're Having a Wonderful October.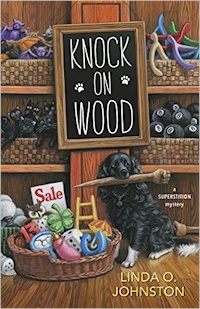 I certainly am. That's partly due to the fact that my second Superstition Mystery, KNOCK ON WOOD, is an October release!
It's about Rory Chasen, a superstition agnostic who first came to Destiny, California, to learn if superstitions are real after her fiancÚ Warren walked under a ladder—and was killed shortly thereafter. Rory stayed in Destiny after her lucky black-and-white dog Pluckie found Martha, an older lady who was ill in the back room of her store, the Lucky Dog Boutique. Now, Rory runs that boutique. That part of the story is recounted in the first Superstition Mystery, LOST UNDER A LADDER, in which Rory also worked on trying to clear Martha as a murder suspect.
In KNOCK ON WOOD, Rory's best friend Gemma comes for a visit and winds up staying to manage the Broken Mirror Bookstore—and run from her newly ex boyfriend. She starts flirting with others in town, and when one of them, Lou Landorf, the town's Public Affairs Director, is found dead... well, you can guess who the main suspect is.
By the way, though Rory remains a superstition skeptic, she sees and uses a lot of them around Destiny. And though she misses Warren, she spends a lot of time with Police Chief Justin Halbertson. Who knows what may happen between them?
---
CANADIAN WOLF
You may recall that last month CANADIAN WOLF was published. It was the seventh in my Alpha Force paranormal romance series for Harlequin Nocturne about a covert military unit of shapeshifters. CANADIAN WOLF is available online in both print (on the Harlequin site) and e-versions, including a boxed set with Denise Lynn's DRAGON'S PROMISE. It is also available in some stores in a print 2-in-1 version, paired with Linda Thomas-Sundstrom's SEDUCED BY THE MOON.
with Dragon's Promise:
with Seduced by the Moon:
---
BITE THE BISCUIT
Earlier this year, BITE THE BISCUIT, my first Barkery & Biscuits Mystery for Midnight Ink, was published.
In BITE THE BISCUIT:
Veterinary technician Carrie Kennersly has become known for offering healthy dog treats at the clinic where she works. So when the owner of the local bakery moves away, Carrie jumps at the chance to buy the business and convert half of it into the Barkery, a shop where she can make and sell her canine delights. But Myra Ethman, co-owner of another pet product store, hates the new competition. At the Barkery's opening party, she badmouths Carrie's homemade dog biscuits, insisting she'll find a way to shut the place down. When Myra is found dead with a Barkery biscuit beside her, Carrie must prove she didn't do it before she's collared for murder.
The second Barkery & Biscuits Mystery, TO CATCH A TREAT, will be a May 2016 release.

---
MORE TO COME
Nope, I'm not through writing yet. And in case you're wondering, canines—dogs, werewolves, whatever!— often play a big role in my stories!

---
VISIT ME!
Please come visit me at www.LindaOJohnston.com and at www.KillerHobbies.blogspot.com on Wednesdays, on Killer Characters on the 18th of each month and at InkSpot on the first Monday of each month... and friend me on Facebook! And I do pop up often at chats, blogs and more on Writerspace.

So... my fingers are crossed that you have a very lucky month! And BTW, if you read any of my books (and especially if you like them!) please consider posting a review on Amazon.