THE MORE THE TERRIER!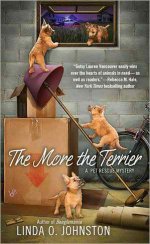 It's here! The second Pet Rescue Mystery, THE MORE THE TERRIER! It follows BEAGLEMANIA, the first book in the new series, which is a spinfoff from my Kendra Ballantyne, Pet-Sitter Mystery series, both from Berkley Prime Crime. As I've said before, the series can be read independently and out of order. If you love animals or mysteries or both...well, give them a try!
I'm delighted that THE MORE THE TERRIER is a Mystery Guild selection.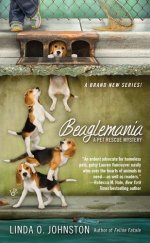 In THE MORE THE TERRIER, protagonist Lauren Vancouver, administrator of the no-kill pet shelter HotRescues, is faced with a dilemma. She learns that her former pet rescue mentor, Mamie Spelling, has become a hoarder. Of course Lauren has to help save all the animals, and she finds herself in the position of having to help Mamie, too, when the confused senior citizen is accused of murdering the nasty CEO of a pet shelter network who has been hounding her.
And, yes, all animals are saved. In the Pet Rescue mysteries, "no-kill" means pets, not people!
The new Pet Rescue Mystery, HOUNDS ABOUND, will appear in April 2012.
My Harlequin Nocturnes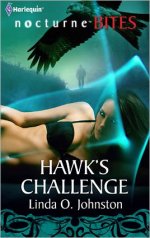 Yes, there is a new addition this month to my Alpha Force mini-series for Harlequin Nocturne. HAWK'S CHALLENGE is a Nocturne Bites--an e-novella available at the eHarlequin website and on Amazon and Barnes & Noble.
Alpha Force is a very covert military unit composed of shapeshifters. Although the shifters in the printed books are all wolves, there are different animals involved in the Bites. In HAWK'S CHALLENGE, the shifter is--you guessed it! A hawk.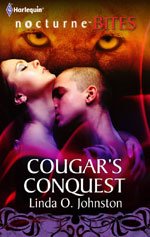 And guess what? There's another Bites coming out in November: COUGAR'S CONQUEST, and the shifter there is, not surprisingly, a cougar.
There will be another, as yet untitled book-length Alpha Force story coming out in 2012. More to come on that.
More News
I've also sold a Harlequin Romantic Suspense story! The title, at least for now, is UNDYING LOVE, and the publication date is tentatively September 2012. Both are subject to change.
I have a lot of signings and appearances coming up. You can see a list of them on my web page.
Also, I'll be teaching an online class called Kiss Me Or Kill Me: Writing Cozy Mysteries 101 for Romance Writers starting in February for the Orange County Chapter of Romance Writers of America. You don't really have to be a romance writer to participate. I'll be teaching the nuts and bolts of cozy mysteries for everyone.
In Closing
Please come visit me at www.LindaOJohnston.com and at www.KillerHobbies.blogspot.com on Wednesdays...and friend me on Facebook!
If you don't want to receive my newsletter in the future, please send me an e-mail--to lindaojohnston@rocketmail.com.