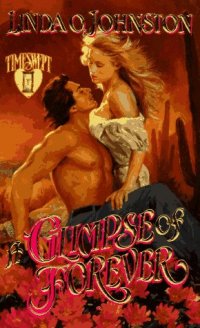 A Glimpse of Forever
Love Spell Timeswept
December 1995

The Seer
Her wagon stranded on the Spanish Trail, pioneer Abby Wynne searched the heavens for rain. Gifted with visionary powers, Abby sensed a man in another time gazing at the same night sky. But even she could not foresee that she would journey to the future and into the arms of her soul mate.
The Stargazer
Widower Mike Danziger had escaped the L.A. lights for the desert, but nothing prepared him for a beauty as radiant as the doe-eyed woman he found. His intellect couldn't accept her incredible story, but her warm kiss eased the longing in his heart.
A Glimpse of Forever
Caught between two eras bridged only by their love, Mike and Abby fought to stay together, even as the past beckoned Abby back to save those trapped on the trail. Was their passion a destiny written in the stars or only a fleeting glimpse of paradise?
---
Reviews
"... a poignant and warm-hearted tale of soul mates reaching across time to fulfill their destined love." - Romantic Times
"... an impressive, steamy romantic adventure." - Rendezvous
"With more novels like this one, the O in Linda O. Johnston will surely stand for outstanding." - Affaire de Coeur
"A mysterious millionaire benefactor, an ugly murder and a friend's incrimination are enough to get the ultimate animal lover into a charmingly witty...mystery." -- Pat Cooper, RT Book Reviews