The Glass Slipper
Amazon Kindle
May 2014
"By the stroke of midnight you must kiss
the handsome prince who will bring you bliss."

Can fairy tales come true? Paige Conner doesn't think so--except that she happens to have a fairy godmother, Millicent. When Paige lands a new job as historian in the in the wonderful monarchy of Dargentia, she suspects Millicent's involvement. And once Paige meets the handsome hunk of a ruler, Prince Niko, she can only hope her fairy tale has a happy ending.

The Glass Slipper is a contemporary Cinderella story reminiscent of "Grimm", "Once Upon a Time" and "Once Upon a Time in Wonderland", not to mention the fun movies "Ever After," "Elle," and the "Cinderella Story" films. This is a sexy romance filled with suspense and a hint of the paranormal that will appeal to a wide range of readers hoping to escape into their own happily ever after.

---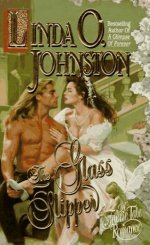 Love Spell Faery Tale
July 1996

BY THE STROKE OF MIDNIGHT, YOU MUST KISS THE HANDSOME PRINCE WHO WILL BRING YOU BLISS.
By no stretch of the imagination did Paige Conner consider herself a princess. She was far more interested in pursuing her research than in attending gala balls or dressing in frilly gowns. Then the feisty beauty's bumbling fairy godmother arranged for her to take a job that landed her in a small kingdom - and in the arms of a prince with more than dancing on his mind. Enchanted from the first, Paige longed to lose herself in her royal suitor's loving embrace. Yet she feared that their desire was a result of a seductive spell and not her own considerable charms. And Paige wouldn't agree to live passionately ever after until she had claimed the prince's heart with a magic all her own.
---
Reviews
"Linda O. Johnston has written a winner!" - Romantic Times
"In the age of computers and hundred dollar sneakers, Linda O. Johnston provides an entertaining contemporary fairy tale romance.... readers will enjoy this highly recommended read." - Affaire de Coeur
"... a wonderful, make-believe tale filled with magic and romance...." - Rendezvous
"... a contemporary Fairy Tale filled with humor, romance and most of all the faith that Fairy Tales can come true!" - Romance Forever