My Cavaliers and I
A born dog fancier, I met my first Cavalier King Charles Spaniels in 1972 on the London Underground. I fell in love on the spot, and acquired my first Cavalier soon thereafter: Azorese Pandaemonium. Panda was my best buddy for nearly ten years.
I bought Lucia as a companion to Panda. I hoped for pups, but though Lucia had a litter, Panda unfortunately wasn't the sire. That litter was the birth of my kennel, Ubiquity Cavaliers--puppies very occasionally! We kept Lucia's son Micquey. Lucia outlived him by quite a few years, living to the ripe old Cavalier age of 17.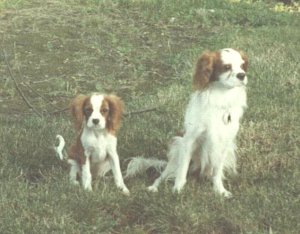 Lucia and Panda
By then, we'd acquired Emily, a smart, sweet, beautiful Cavalier whom we lost a couple of years ago. Emily has had one litter of Ubiquity Cavaliers, which resulted in Sparquie, whom we also kept.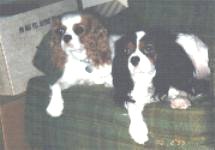 Sparquie and Emily
Sparquie enjoyed being an only Cavalier for a short while after we lost Emily, retraining me to take her for long walks in the morning. And then we adopted Lexie, who helped to keep Sparquie, and me, young! But we recently lost Sparquie, so Lexie is now getting used to being an only Cavalier, at least for now.

My Cavaliers keep me company during what otherwise is a rather solitary career of writing and contract lawyering. Emily and Sparquie were the inspiration and barking force behind Once a Cavalier. And, of course, Lexie is both an inspiration and a character in the Kendra Ballantyne mysteries.
There is no sweeter, friendlier, more loving dog than a Cavalier!
---
Cavalier Links
Cavalier King Charles Spaniels Club, USA
Cavalier King Charles Spaniels Club
Cavalier King Charles Spaniels Hall of Fame
Cavalier King Charles Spaniels FAQ
Cavalier King Charles Spaniels Information
Pictures of Cavalier King Charles Spaniels
Cavalier Quarterly Free Monthly E-zine