It's Here!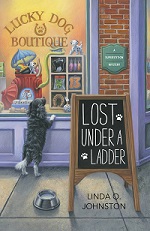 It's here--my first Superstition Mystery--LOST UNDER A LADDER!
LOST UNDER A LADDER was just released this month. It's not only my first Superstition Mystery, but it's also my first mystery for Midnight Ink--although I'm also working on a second series about a dog barkery for them, too.
What's LOST UNDER A LADDER about? I mentioned it somewhat in my last newsletter. Protagonist Rory Chasen doesn't believe in superstitions—until her fiancÚ walks under a ladder and is killed by a car five minutes later. Rory takes her dog Pluckie to Destiny, a town where superstitions are a way of life, to learn more about superstitions and, hopefully, achieve closure.
When Pluckie, who's a lucky black and white dog, saves the life of Martha, the owner of the Lucky Dog Boutique, Martha offers Rory a job managing her pet store. You won't be surprised to learn that Rory agrees, although she believes it'll be for a limited time.
When Martha becomes the prime suspect in the murder of the local bookshop owner, Rory refuses to believe that she would do it. Rory must uncover the truth before Martha is hauled off to jail.
Are you superstitious? You may not admit it, even to yourself, but do you knock on wood or cross your fingers for luck? Do you avoid walking under ladders, unlike Rory's fiancÚ? Rory's a skeptic, so even if you are, too, you'll enjoy LOST UNDER A LADDER--or at least my fingers are crossed that you do! And I believe it'll be good luck to read the Superstition Mysteries.
Visit Me
Please come visit me at www.LindaOJohnston.com and at www.KillerHobbies.blogspot.com on Wednesdays, on Killer Characters on the 18th of each month and at InkSpot on the first Monday of each month... and friend me on Facebook!
If you don't want to receive my newsletter in the future, please send me an e-mail--to lindaojohnston@rocketmail.com.